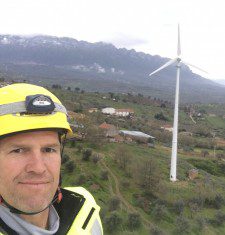 Gary Harcourt
Great Rock Windpower
Gary Harcourt is the founder, manager and co owner of Great Rock Windpower with a mission to promote distributed wind energy through the installation and maintenance of safe and cost effective small wind systems. Along with his partners, he has installed and maintains a small fleet of turbines in Massachusetts. Gary also travels for Endurance Windpower Inc. as a commissioning engineer training installers and technicians throughout North America and Europe.
Serving on the NABCEP small wind exam committee Gary helped craft the first installer certification exam (he was certified as a NABCEP Level III small wind installer). He currently serves on the DWEA Planning and Zoning committee and is a board member for the Small Wind Certification Council; Gary received the "prestigious" 2104 installer of the year award at the small wind conference in Wisconsin.
Gary is also a customer and turbine owner operating a small 5kW turbine at his woodshop on Martha's Vineyard in Massachusetts.