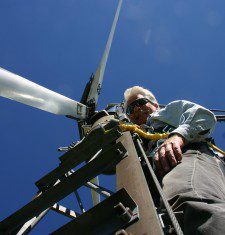 Roger Dixon
Acting Board Secretary, Skylands Renewable Energy
Acting Board Secretary, Skylands Renewable Energy
Roger Dixon is the Owner of Skylands Renewable Energy, Hunterdon County, NJ and has been involved with the evolution of wind electric for 38 years.
Mr. Dixon is a charter member of the NJ Small Wind Working Group (NJSWWG), chairing the NJSWWG Highlands Committee, Economics Committee and the Small Wind Model Zoning Ordinance and Siting Committee. He has also been a participant in the New Jersey Board of Public Utilities (NJ BPU) Renewable Energy committee meetings and sat on the NJ BPU Solar Alternative Compliance Payment/Alternative Compliance Payment (SACP/ACP) Advisory Committee representing small wind developers.
Additionally, he sits on the On-Site Wind Stakeholders Committee that helped to develop NYSERDA's (New York State Energy Research and Development Authority) On-Site Wind Incentive Program for 2010-2015. He was a member of the North American Board of Certified Energy Practitioners (NABCEP) Exam Committee, helping to write the Small Wind Installer Certification Exam. He also sat on the Job Task Analysis Committee for the NABCEP Wind Site Assessor Exam and was a member of the NABCEP Small Wind Entry Level Exam Committee.
Mr. Dixon is a founding member of the Distributed Wind Energy Association (DWEA), serves as a current Board Member, is past co-chair of the Permitting and Zoning Committee and past co-chair of the Installer Committee. He is well versed in zoning and permitting for wind electric and was also a member of a national wind industry committee that wrote the Small Wind Article for the 2011 National Electrical Code (NEC).
He is a NJ CEP (Clean Energy Program) Approved Wind Turbine Installer for both residential and commercial applications and is a NYSERDA (New York State Energy Research and Development Authority) Approved Wind Turbine Installer.
His expertise and qualifications are internationally recognized and he provides wind turbine related consulting services for a variety of professional groups, including The Society of Industry Leaders, Gerson Lehrman Group Natural Resources Council and Vista International and served as an advisor to the University of California Riverside Wind Energy Project. He is one of only two endorsed renewable energy vendors for the New Jersey Farm Bureau.
In addition to public speaking engagements, Mr. Dixon has taught Continuing Education courses for New Jersey licensed insurance and securities brokers, Certified Public Accountants and the Environmental Law Section of the New Jersey Bar Association. He has also taught at the Montgomery County Community College, Central Campus in Blue Belle, PA and the Pottstown campus in Pottstown, PA, as well as the Bucks County Community College, Newton, PA campus and for SEI (Solar Energy International) at St. Francis University in PA.
He has presented seminars on permitting and zoning to municipal employees, elected officials and interested business professionals on behalf of the NJ BPU at Rowan University, The College of New Jersey (TCNJ), Richard Stockton College, Ocean County College and Rutgers University. Mr. Dixon was also a guest speaker at the 2010 Atlantic Coast Agricultural Convention and Trade Show and was the 2013 recipient of the Small Wind Conference Wind Installer Award "in recognition for his enthusiasm, dedication and outstanding work in the small wind industry".
He holds the following certifications:
• Certified Wind Site Assessor, Midwest Renewable Energy Association
• NABCEP Certified Level 3 Small Wind Installer
• ASME/IACET/OSHA Qualified Rigging Instructor
• Certified in Advanced Tower Climbing, Safety and Rescue
• NJ CEP (Clean Energy Program) Approved Wind Turbine Installer
• NYSERDA (New York State Energy Research and Development Authority) Approved Wind
Turbine Installer
Mr. Dixon and Skylands Renewable Energy are involved in numerous mid-scale commercial and municipal wind turbine projects, as well as smaller, individual renewable energy installations. Mr. Dixon also mentors wind turbine installations all over the United States for a US based wind turbine manufacturer, as well as a California based wind turbine importer/wholesaler.