A Gathering of Installers, Manufacturers, Dealers, Distributors, Educators and Advocates The 13th Annual Small Wind Conference will be held April 10-11, 2017 at the Crowne Plaza AiRE, Bloomington, MN, right next to the MSP Airport and the Mall of America. Presentation proposals are being accepted through February 10th and conference registration is open! Visit the event website for further details.
Find out more »

"SMALL WIND & SOLAR HYBRID SYSTEMS: Key to a Self-Sufficient Energy Future" The World Wind Energy Association (WWEA) and Intersolar Europe are pleased to invite the small and medium wind stakeholders as well as the Solar PV and Energy Storage industry to participate in the World Small Wind Conference (WSWC2017), taking place in Munich/Germany on 1 and 2 June 2017, in parallel with the Intersolar Europe exhibition 2017 (31 May – 2 June 2017). Participants from over 30 countries gathered in…
Find out more »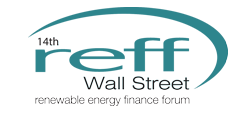 REFF-Wall Street is the premier renewable energy financing event in the U.S. The event draws an especially senior audience, comprising of over 600 decision makers, lenders, investors, investment bankers, private equity investors, venture capitalists, and other top transactional professionals in renewable energy finance. To learn more, please visit the event website.
Find out more »