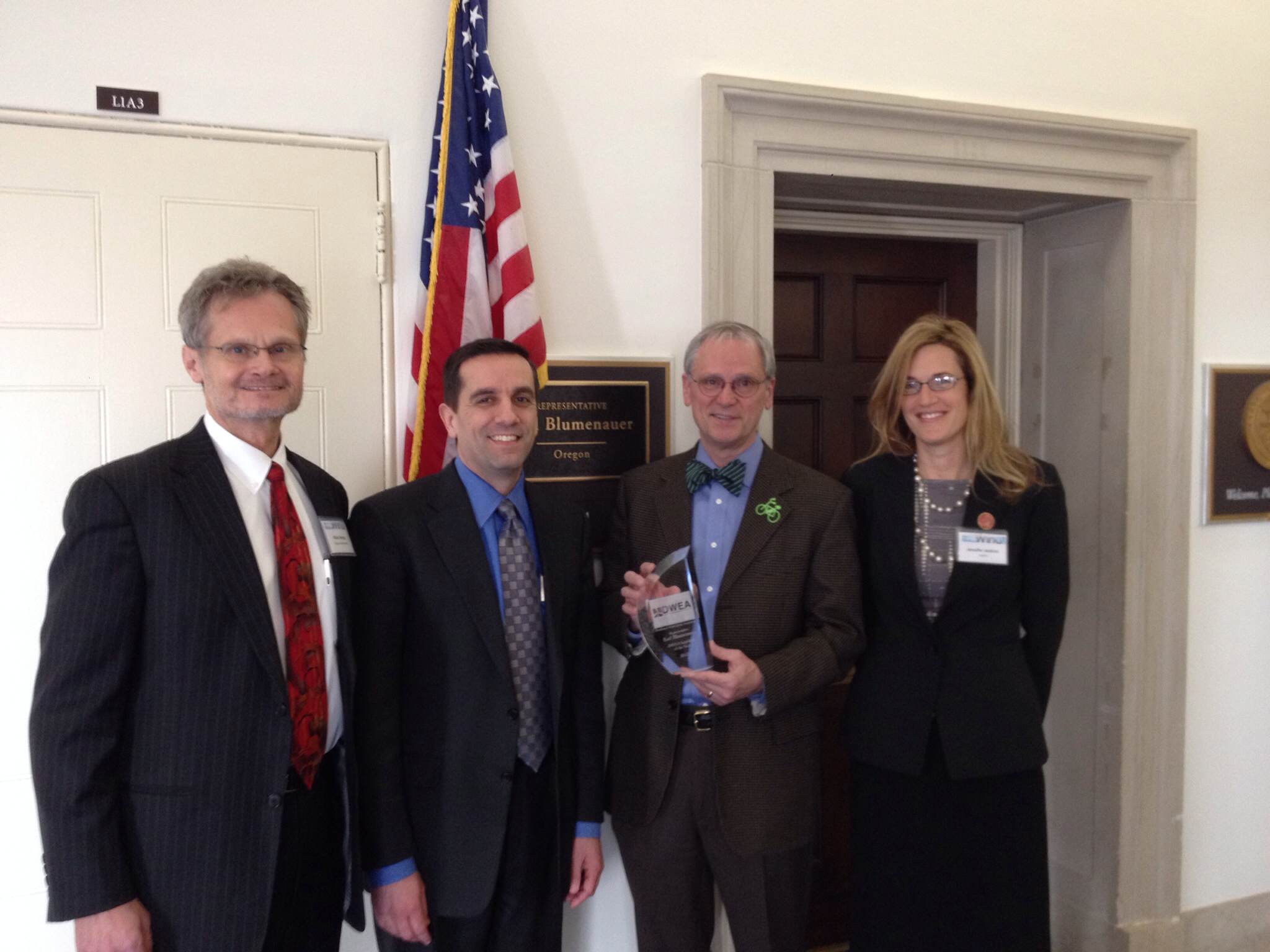 FOR IMMEDIATE RELEASE
Feb 28, 2014
FOR MORE INFO: Lauren Glickman            
Email: Lglickman@distributedwind.org 
Tel: 504-258-7955
Blumenauer Receives Legislator of the Year Award from the Distributed Wind Energy Association
WASHINGTON – Representative Earl Blumenauer today received a Legislator of the Year Award from the Distributed Wind Energy Association for his true leadership for distributed wind power.
Mike Bergey of Bergey Windpower, Steve Shum of Xzeres Wind and Jennifer Jenkins of the Distributed Wind Energy Association presented the Congressman with the award. Blumenauer successfully led efforts in Congress to enact the small wind Investment Tax Credit (ITC). His efforts have not stopped there. He has been a champion of the industry on many fronts, including the pursuit of more distributed wind funding from the Department of Energy.
"I am very grateful for this award," said Congressman Blumenauer. "Wind energy is a key part of our renewable energy mix. Investing in wind diversifies our energy supply and strengthens our resilience to energy related challenges, while improving our national energy security. I will continue working as hard as I can to support wind energy and ensure that it remains a strong and viable option for millions of Americans and creates living wage, non-exportable jobs."
"I want to thank Congressman Blumenauer for his strong support of distributed wind power and this American success story.," said Jennifer Jenkins, Executive Director of the Distributed Wind Energy Association.  "Our industry is at a critical crossroads, but with his leadership on driving policies, we are provided with the certainty we need to continue to grow."
Distributed wind is present in all 50 states, stimulating local economies and providing American jobs.  Compared to traditional, centralized power plants, distributed wind energy installations directly supply power to the local grid near homes, farms, businesses and communities– helping to improve grid reliability and efficiency. Turbines used in these applications can range in size from a few hundred watts to multi-megawatts, and can help power remote, off-grid homes and farms as well as local schools and manufacturing facilities. Distributed wind installations comprise more than 68% of all wind turbines installed in the United States (on a unit basis) over the past ten years.
In Oregon, the State's natural wind resources generate approximately 1700 megawatts of electricity. That's enough power to meet the needs of nearly 700,000 average American homes. Oregon currently has the 5th most wind power capacity installed of any state.
"As an Oregon based manufacturer with over 9,000 turbines installed around the world, XZERES Corp sincerely appreciates Congressman Blumenauer's support and confidence that distributed wind systems have a place in today's energy landscape.  Our Skystream 2.4kW and 442SR 10kW small wind turbines are found throughout Oregon, powering schools, farms, homes, wineries and more and we look forward to further progress domestically to compliment our global efforts", stated XZERES CFO Steve Shum.
About the Distributed Wind Energy Association
The Distributed Wind Energy Association is a collaborative group comprised of manufacturers, distributors, project developers, dealers, installers, and advocates, whose primary mission is to promote and foster all aspects of the American distributed wind energy industry. Distributed wind, commonly referred to as small and community wind, is the use of typically smaller wind turbines at homes, farms, businesses, and public facilities to off-set all or a portion of on-site energy consumption. DWEA seeks to attract members and associates from all sectors with relevant interests pertaining to the distributed wind industry. For more information on DWEA, please go to www.distributedwind.org. Follow us on Twitter @DWEA and like us on Facebook. Join us for Distributed Wind 2014: A Capitol Hill Event for Small and Community Wind on February 27-28 in Washington, D.C.