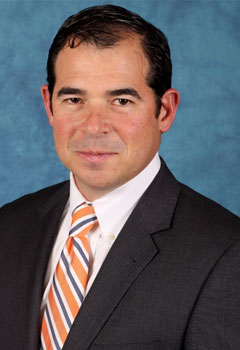 Chris Diaz
Chris Diaz is the co-CEO of Seminole Financial Services, LLC (SFS) a full-service national investment management / financial services organization. In addition to his role as co-CEO, Mr. Diaz oversees the Business Development team as well as Capital and Investor Relations. To date Seminole has closed over $2 Billion in renewable energy construction financing, permanent Financing, and tax credit equity for solar and wind transactions.
Seminole Financial Services (SFS) provides pre-development loans, construction loans; permanent debt financing; and tax credit equity for Renewable Energy Transactions between $2 million and $40 million as well as investment management services to various real estate investment vehicles. Currently, SFS manages over $300 million in commercial real estate and renewable energy assets nationwide, for the benefit of various public employee pension and retirement plans.
Chris is a frequent National Speaker at industry conferences regarding Renewable Energy Finance and Energy Credits. He has published multiple articles regarding Renewable Energy Finance. Chris is a member of the Board of Directors for the Solar Energy Industry Association (SEIA) as the Vice Chair of the Solar Services & Consumers (SSC) Division, is a board member for the Solar Energy Trade Show ("SETS") Board of Managers, is a member of SETS Board of Managers Finance Committee, and was Vice-President of the Board of Directors for the Distributed Wind Energy Association (DWEA).
Mr. Diaz has been involved with tax credits and financial services for over twenty years previously with Credit Suisse, MMA Financial, and the Midland Companies. He holds a Bachelor's Degree in Social Science with emphasis in urban and regional planning from Florida State University and an MBA from Nova Southeastern University.