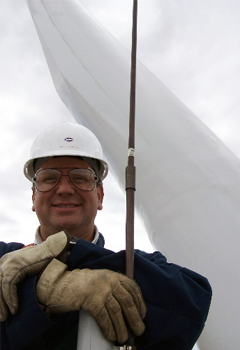 Paul Rowan
As Co-Founder and Principal, Paul serves as the Director of Engineering at Windurance.  An industry pioneer in the field of Full-Span Servo-Electric Blade Pitch Control for Wind Turbines, he is the co-inventor on two patents pertaining to pitch control methods pertaining to Low Voltage Ride-Through and Turbine Safety using Brushless Servo Techniques.  Paul is the technical and product development team leader charged with moving Windurance products and solution offerings into the DWER market space.  He currently serves on the DWEA Board.
Paul has Bachelor of Science Degrees in Physics and Mathematics from Adrian College, Michigan.
Throughout the 1980's and 1990's, Paul worked in the field of factory automation, guiding successful technical and commercial development of numerous servo electric actuators for computer controlled machinery.  Tire Building, High Speed Glass Container manufacturing, Ion Implantation-Semiconductors, Security Press Printing, and Confectionary Production are just a few of the industries and applications he has served, where substantial improvements in productivity have been realized.
In the late 1990's, Paul and his team of power conversion and embedded system engineers produced the first servo electric individual blade pitch actuator system for utility scale wind turbines.  Subsequently forming the company now called Windurance with a small team of engineers, partnered with manufacturing operations experts, Paul and his colleagues combined in the joint venture to commercialize and market power conversion and embedded solutions for the wind industry in 2000.  Products developed and deployed by Windurance beginning in 2002, then and until now, remain in productive service in the United States, Mexico, Spain, and China.