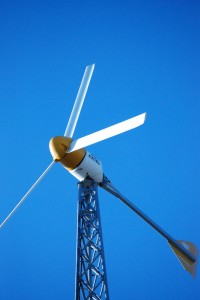 Background: DWEA is supporting a rural small business, land-owner and farmer refundable tax credit of 30% or $50,000, whichever is less, for capital and installation costs of small scale renewable energy projects (small wind, micro-hydro and biomass) for rural electric co-operative and municipal utility customers.
●  The installation must meet the requirements of Colorado's net-metering laws and interconnection standards for the type of utility that serves the customer. This credit is available to a variety of technologies – including small wind, micro-hydro, biomass, geothermal and more.
●  Tax credit is available for taxable years beginning in 2015 through December 31, 2018.
●  Refundable Income Tax Credit is up to $50,000 or 30%, whichever is less.
●  Program is capped at $1 million/yr and is available to Coloradans on a first/come – first/serve basis.